About Us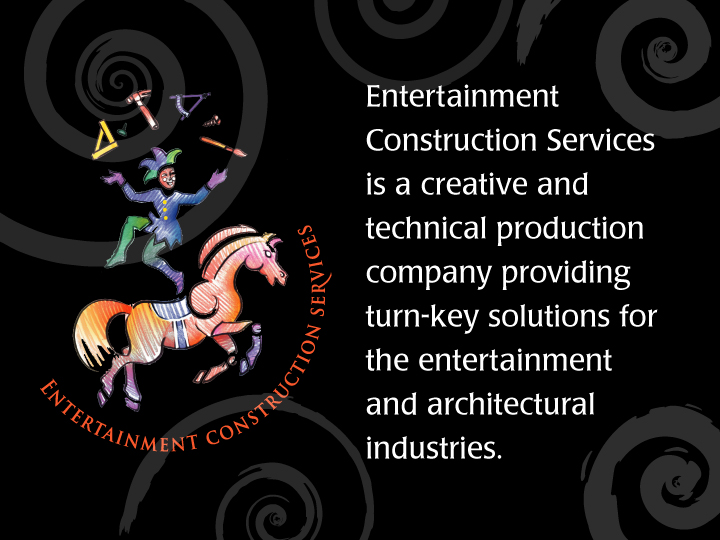 About Us
Since 1996 Entertainment Construction Services (ECS) has been providing Themed Environments, Specialty Fabricated Themed Elements, Scenery, Props, Exhibits, Statuary, Themed Decor and Architectural Elements as well as Consulting Services and Project Management for the Entertainment Construction, Corporate Branding, Theme Park, Museum and Themed Retail/Restaurant Industries worldwide.
ECS has earned the trust and patronage of many leaders in the theme park, hospitality, theme retail/restaurant, attraction and theater industries. A part from our outstanding workmanship, we are known for our hard work, creativity, ethics, values and on-time service.
Our Story
ECS's roots are in New York and LA's premier scenic shops building the finest theatrical stage and film scenery for Broadway, network television as well as theme park and attractions nation wide.
In 1996, Rich (taking several scenic craftsmen with him) moved from New York to Las Vegas to Project Manage the famous Treasure Island Battleship Spectacular, which at the time was the largest moving scenic element ever produced.
After the completion of the TI ships, Rich along with a group of seasoned craftsman opened ECS to bring themed and entertainment construction experience, skill sets, talents and know-how to the booming Las Vegas Themed Casino, Retail/Restaurant and Corporate branding markets.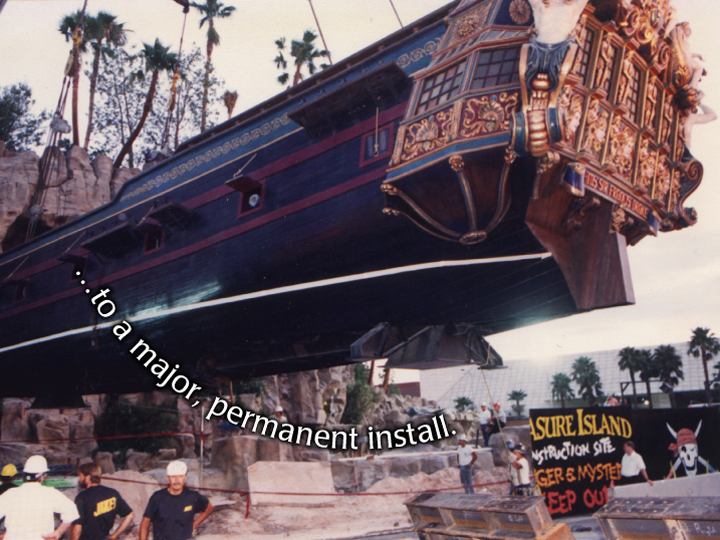 Clients & Experience
FEC/ATTRACTIONS
Six Flags Theme Parks/DC Comics, Disney Lion King Parade, Space Quest/Star Trek Experience, Sendak Play Space Sony Metreon, Pirate Battleship Spectacular, Atlantis Show Forum Shops Las Vegas
CASINOS, LAS VEGAS
Caesars Place, Caesars Forum Shops, Bellagio, Wynn, Venetian, Palazzo, Paris, Mandalay Bay, New York-New York, Rio, Luxor, Treasure Island
THEATRICAL
Broadway, Miss Saigon, Grand Hotel, Meet Me In St. Louis, Annie II. Metropolitan Opera, NYC, Sunset Blvd. LA, NBC-TV, EFX at MGM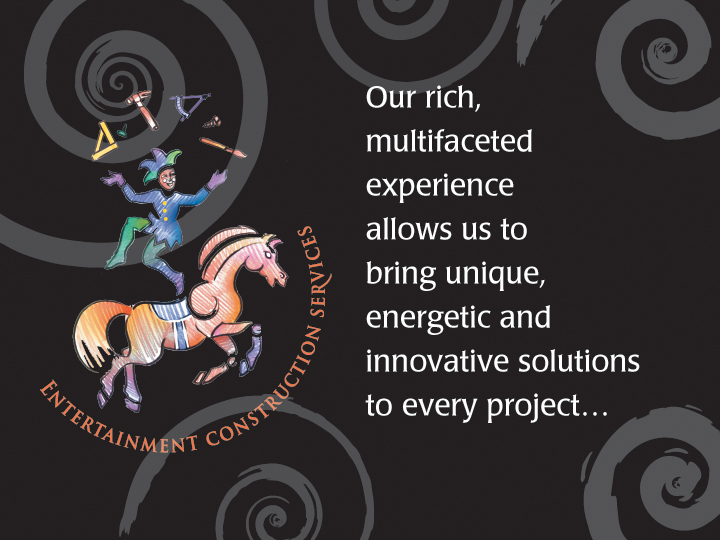 THEMED RETAIL/RESTAURANTS
Mall of America, Warner Bros. Stores, M&M Store, Hilo Hattie's, Kahunaville, Margaritaville, Beluga Bar, Blue Note Jazz Club
CORPORATE ACTIVATION & SHOWS
Harley Davidson, Coor's, Miller Light, CMT-TV Awards, Office Depot, MTV Network, Opryland Productions, Princess Cruises, Nescafe'
MUSEUM
Cairo Children's and Science Center, Cairo, Egypt, Field Museum of Natural History, Chicago, IL.
____________
About the Founder
Richard Freudenthal
Founder & CEO
Richard has been in the entertainment construction industry for over 30 years. Attending college as a fine art/technical theater major, Rich also studied at numerous art and technical schools including New York City's prestigious Art Students League and New York Tech. Rich worked his way up the ranks in New York's top scenic shops from scenic carpenter to shop foreman, project manager and general manager. During that time Rich's list of accomplishments comprise hundreds of projects including many Broadway productions, sets for the Metropolitan Opera, television sets for NBC, ABC and CBS, countless television commercials, museum exhibits, and corporate shows. Rich also worked on special projects for Fairchild-Republic Aviation building full and scale wind tunnel models, mock-ups and prototypes of military aircraft and cruise missiles.
While working as General Manager of Showtech-New York, Richard was sent to Las Vegas as Senior Project Manager for the fabrication and show production supervisor of the famed Pirate Battleship Spectacular at Treasure Island. At the time, the British ship was the largest moving entertainment device in history. Rich continued to work in Las Vegas after the ships were completed as General Manager of Scenic Technologies and earned two more world records in the entertainment construction industry. First, acting as Project Manager for the 45 million dollar production EFX at the MGM that was the most expensive, technically advanced stage show ever produced at the time and as the PM for the LA production of Sunset Boulevard, which was the heaviest moving set ever built inside a theater.
In 1996, Rich opened his own factory, Entertainment Construction Services, Inc. Using his art, design and entertainment construction background, Rich focused on themed creative construction/permanently installed projects and brought scenic construction skills, know-how, flair and experience to the then booming themed casino marketplace. Simply put, Rich's company built what makes Vegas, "Vegas." His themed interior/exterior architectural features and casino themeing can be seen in nearly every major strip casino such as the Wynn, Encore, Palazzo, Bellagio, The Forum Shops, Caesar's Palace, the Venetian and many more.
Currently Rich supplies scenic and themed fabricated products as well as consulting services including project management, budgeting/estimating, vendor/sub-contractor procurement and management, contract writing and review to a multiple of industries including theme park, museum, casino and corporate branding. Work, projects and clients include the Universal Studios, Cairo Children's Museum, Six Flags Parks, Coors, Miller, Resort World Hotel/Casino and many more.